If at first you don't succeed, try, and try again. But what if you tried so many times and failed, costing you lots of time, effort, and spirit? Well, then try something else! 
Starting up the journey to debt freedom is often times not as simple as it may seem. Finding the right advice that works for you, in itself, is crucial to success. The determination to keep up with set plans is just as important, to achieve the best results in the end. What matters most is taking the power to choose and start paying off debt.
Such is the story of our guests, Chris and Helen Hawkins, on today's episode of The His & Her Money Show. They talk to us about how they turned desperation, fear, and anxiety, into action, courage, and determination, to rid themselves of impending liability. 
[clickToTweet tweet="You are capable of accomplishing a lot more than you think you can." quote="You are capable of accomplishing a lot more than you think you can." theme="style3″]
Chris and Helen started off going through "hiccups" stifling them from paying off their debt. Panic set in when Chris and Helen realized time is not a luxury, as some of their debt was quickly becoming due. But with faith, inspiration, and grit, Chris and Helen were able to follow a solid system that helped them pay off over $76,000 worth of debt in a little less than 3 years.
It definitely wasn't easy and Chris and Helen had to make sacrifices and push through the bumps and potholes of life. Little milestones gave Chris and Helen a sense of accomplishment and build momentum, until they rid themselves of fear and paying off debt became a game… something easier, and something they wanted to do.
[clickToTweet tweet="All it takes is believing in yourself, and it takes working toward that goal." quote="All it takes is believing in yourself, and it takes working toward that goal." theme="style3″]
Chris and Helen continue to stick to their budgeting system after paying off all their debt, as they enjoy the rewards and comfort budgeting provides. To Chris and Helen, budgeting allowed them a sense of freedom and empowered them to tell themselves "yes" in various ways. With greater goals and dreams in mind, they are looking forward to more journeys. And knowing there will be hiccups coming as life goes on, budgeting catapulted the Hawkins to a better marriage and a better quality of life. 
"Thrift" means "to be content in life," which is a virtue that's been around in America since the founding. Speaker/Author and the host of the Thriving Financially with Dr. Thrift podcast, they provide encouragement, hope to people, provide knowledge in finance. They also provide small articles like The 9 Financial Principles, and a plethora of personal finance resources. They are passionate about helping people to better manage their money. To find more about what they can offer, visit their website: Dr. Thrift.
What You Will Learn In This Episode
How Chris made $76,000 of debt more manageable to pay off.

How Helen was able to push through fear and anxiety over their debt.

The thoughts that motivated Chris and Helen to try out Dave Ramsey's advice.

The many ways budgeting greatly improved Chris and Helen's lives during and after paying off debt.

Why budgeting should be viewed as a freedom to use when managing money.

How Chris and Helen stayed motivated to stay on track with paying off debt, despite pitfalls and hiccups along the way.

Their many words of encouragement for people to start paying off their debt and stay on track until the end.
Resources Mentioned In This Episode
Thank You For Listening!
Thanks for tuning into us on The His & Her Money Show. If you have any comments or questions about today's episode, please let us know your thoughts in the comment section below. If you've enjoyed this episode, please share it using the social media buttons you see at the bottom of the post.
Also, please leave an honest review for The His & Her Money Show on iTunes! Ratings and reviews are extremely helpful and greatly appreciated! They do matter in the rankings of the show, and we do read each and every one of them.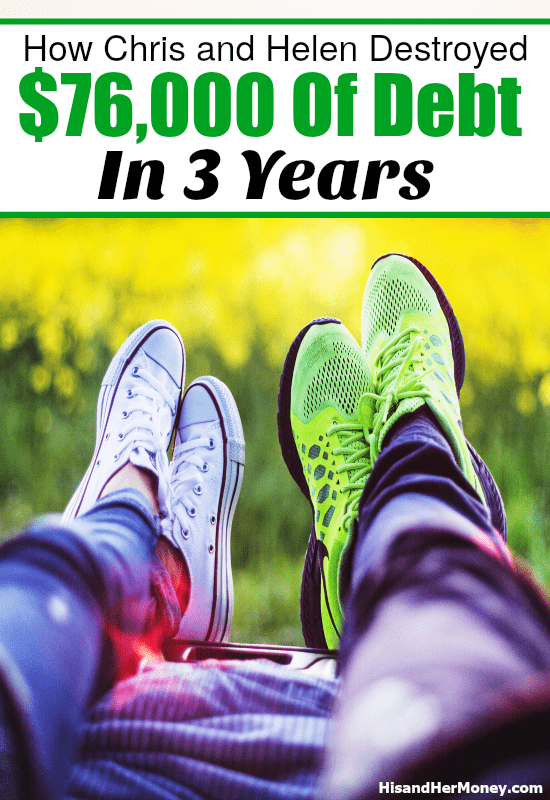 ---