We have different experiences, origins, and culture so we might have a unique interpretation and way of handling money. That's why we can't blame others behavior towards it. Some treat it like a simple matter of spending and saving while others really struggle with managing it. 
Many people borrow just to buy whatever will make them happy and end up suffering financial stress; others are very occupied with how to budget their salaries, daily expenses, savings and some expensive habits, and they experience financial trouble because of an uncontrolled mindset. How can we really end this financial stress?
On this episode of The His & Her Money Show, we have Emily Guy Berkin, the author of Choose Your Retirement and The 5 Years Before You Retire, who shares her insights and wisdom on better ways to manage money and debt and how to eliminate financial stress.
Emily was a high school English teacher. She started her first blog on PTmoney.com and did her transition bloom into a full blogging/writing career. She did much research, and through trial and error, she recognized that what works for one person can work for another. She can handle mistakes and move on and has confidence in her abilities. She is a very vocal about her personal finance, open about money issues and ways that she and her husband handle finances to helps others.  She loves spreadsheets, keeps track of expenses and feels in control of their finances.
[clickToTweet tweet="Being debt free offers a great deal of mental and psychological freedom and avoidance of stress." quote="Being debt free offers a great deal of mental and psychological freedom and avoidance of stress." theme="style1″]
According to Emily, it is important to learn different ways of managing money. She has her own interpretation of how money leads to emotional, psychological and moral weights that end up causing stress. Instead, think about the emotional meaning you give to it rather than what goods and services you can buy. How you view and handle money has a really big impact on oneself, the family, and the people around you right up to the future generation. Arranging your money and expenses will reduce stress. You may see a family member buying an overload of stuff as part of his/her coping mechanism because of past experiences.
Ultimately, dig down to the kind of emotional needs you're feeding by doing reckless things with your money and make better, more rational decisions about money.
What You Will Learn in This Episode
What made Emily start her personal finance program.

How we can determine that our financial situation is causing our stress.

The biggest factor that allows Emily to become very sound in the financial area.

Advice for those who are afraid to talk about money.

The first step to end financial stress now.

How debt affects financial stress.

Advice on how to deal with stress for spouses whose partners are not on the same page.

Ways to alleviate stress from debt.

Words of encouragement for listeners to end financial stress.
Resources Mentioned in This Episode
Thank You for Listening!
Thanks for tuning into us on The His & Her Money Show. If you have any comments or questions about today's episode, please let us know your thoughts in the comment section below. If you've enjoyed this episode, please share it using the social media buttons you see at the bottom of the post.
Also, please leave an honest review for The His & Her Money Show on iTunes! Ratings and reviews are extremely helpful and greatly appreciated! They do matter in the rankings of the show, and we do read each and every one of them.
Get your FREE audiobook download and 30-day free trial at HisandHerMoney.com/Audible. With over 150,000 titles to choose from for your iPhone, Android, Kindle or mp3 player, Audible has a ton of audiobooks for you to try no matter what genre you love to read.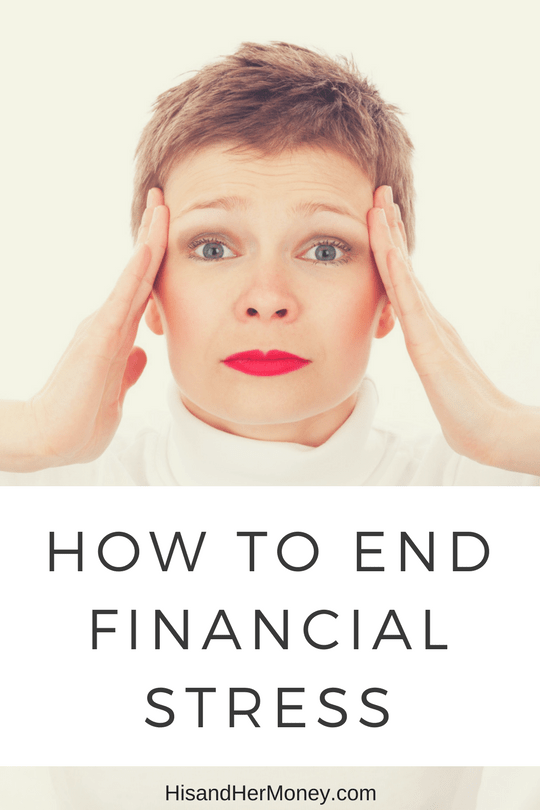 ---