Raise your hand if you're thinking about retirement right now…..*crickets*. The truth is that retirement is one of the last things on our minds right now, if it's even on our mind at all. Retirement seems like this far off distance land, that isn't even in view for us at  the moment. Due to the fact that it feels and seems so far away, we don't spend any time thinking about, let alone planning for it. What if we told you that it's possible that you could retire comfortably, well before you are in your sixties? There are people all over the country who are foregoing waiting for the traditional retirement age of 65 year old, and are retiring while they are still very young. Today's guest on
The His & Her Money Show
serves as a shining example of this new trend. On this episode, we interview Jeremy Jacobson from
Go Curry Cracker
, who has successfully retired while in his 30's, and is currently traveling the world with his wife and newborn baby. He shares exactly what steps he took to become fully retired at such a young age, and how you can follow in his footsteps.
What You Will Learn In This Episode
What made Jeremy want to pursue early retirement.
How his wife reacted to the idea of early retirement when he told her about it.
The plan that he mapped out to make his early retirement dreams come true.
How Jeremy has figured out how to legitimately pay no taxes.
The steps that you can take to retire early as well.
Resources Mentioned In This Episode
Thank You For Listening
Thanks for tuning in to us on The His & Her Money Show. If you have any comments or questions about today's episode, please let us know your thoughts in the comment section below.
If you enjoyed this episode, please share it using the social media buttons you see at the bottom of the post.
Also, please leave an honest review for The The His & Her Money Show on iTunes! Ratings and reviews are extremely helpful and greatly appreciated! They do matter in the rankings of the show, and we do read each and every one of them.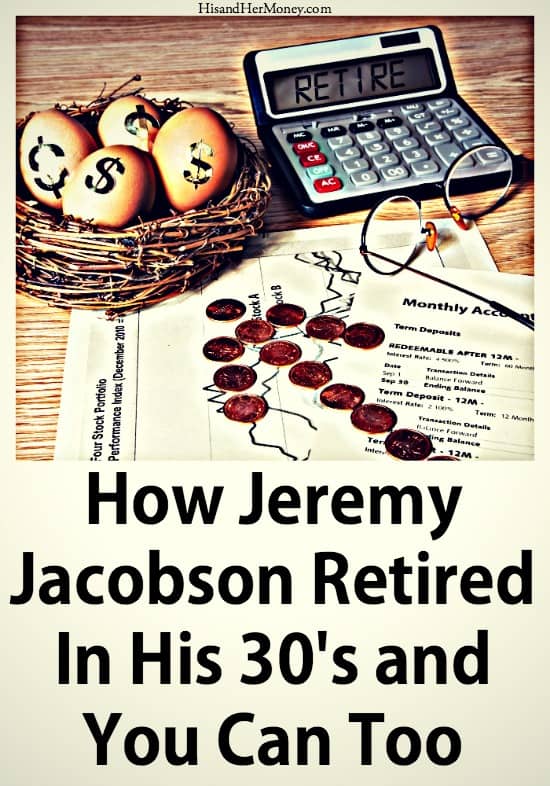 ---