The process of getting out of debt is different for everyone. Whether it's student loans, consumer debt, or even a mortgage, one of the first steps is often creating budget and a realistic time frame. The ideal solution is to pay off your debt as quickly as possible, but it's not always so easy. Life can throw things at you that you didn't see coming, and can either put a hold on your debt-free journey or make it much, much more difficult.
On today's episode of The His & Her Money Show, we've brought in Jay Perry to open up about his own financial journey. It's been a roller coaster — Jay, a pastor, and his wife, a high school/university teacher, found themselves in an impossible situation as their debt spiraled out of control, leaving them wondering how – and if – they were ever going to pay it off. But they persevered, and over the next 4 years, between credit card debt and an extra mortgage they couldn't shake, they managed to eliminate over $200,000 of debt!
When Jay and his family moved to Minnesota to start up a new church, smart money management wasn't at the top of their priorities, but they were doing alright as a dual-income household. But then the unexpected threw a loop into their comfortable lifestyle. Jay took an extended leave of absence from work to care for his mother, who had been diagnosed with Stage 4 cancer, and shortly after that, his wife was involved in an accident and unable to work. Now as a full-time caretaker of two, and with no steady income, Jay could only watch as their financial situation took a turn for the worst. State assistance and disability insurance covered the basics and mortgage, but their credit card debt continued to grow and they found themselves spending money they just didn't have.
The move to California to follow a new job offer only made things worse. This was when Jay and his wife decided that enough was enough, and set out to change things around for themselves and their son. Educating themselves on budgeting and smart money management and deciding where to cut costs and compromise allowed them to continue on with several aspects of their lifestyle while still eliminating debt quickly. They finally sold the Minnesota house, eliminated their student loans and credit card debt, and watched their debt snowball pay off!
Check out Jay's website at ClergyFinancialCoaching.com 
WHAT YOU WILL LEARN IN THIS EPISODE
Challenges Jay and his wife faced tackling debt as a couple
Different ways to find breathing room as you begin your debt-free journey
The benefits of making practical long-term financial goals
Choosing priorities when creating a budget and meeting needs
REFERENCES
THANKS FOR LISTENING!
Thanks for tuning into us on The His & Her Money Show. If you have any comments or questions about today's episode, please let us know your thoughts in the comment section below. If you've enjoyed this episode, please share it using the social media buttons you see at the bottom of the post.
Also, please leave an honest review for The His & Her Money Show on iTunes! Ratings and reviews are extremely helpful and greatly appreciated! They do matter in the rankings of the show, and we do read each and every one of them.
Today's show was sponsored by Teach Me How To Budget. If you are ready to gain freedom in your finances once and for all then enroll in our brand new personal finance course Teach Me How To Budget.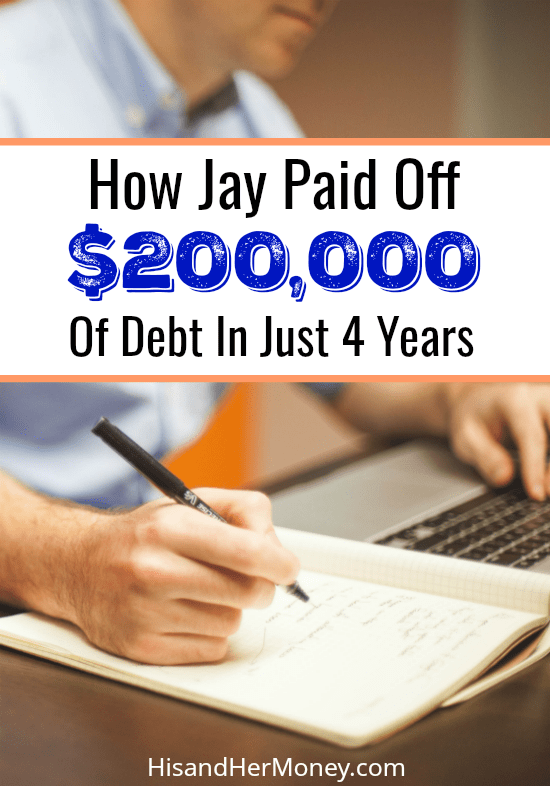 ---