Positive thinking could be a powerful tool that helps people go through the tough times of their journey to financial success. There may be undesirable challenges people have to endure in order to pay off debt, but positive psychology could help them change their inclination to these things.
Such was the case of our guest on today's episode of The His & Her Money Show, MJ Bridges, who developed the attitude, approach, and mentality needed to keep his chin up and step over the bumps on the road to debt freedom.
As do many, MJ had been careless with his credit cards until he gathered around $70,000 of debt at the age of 25. A classic occurrence of having his credit cards declined at a time that he badly needed it, was the awakening moment for MJ that drove him to realize that he was poorly managing his finances.
Owning a vision and a plan, MJ used his wit and resources to keep himself determined to pay off his debt. Disappointments and tough times come along the way, but MJ equipped himself with a positive mind to be resolute on his objective—freedom from debt.
[clickToTweet tweet="You can use your strengths and abilities to make more money." quote="You can use your strengths and abilities to make more money." theme="style3″]
MJ Bridges has a blog that incites personal stories of those who has eliminated masses amount debt, and self-help strategies. To find out more, check out his Young And Debt-Free website.
What You Will Learn In This Episode
How MJ set about his way of thinking into a disciplined style of living.

His strategy on a changing lifestyle without overwhelming compromise.

How MJ kept himself motivated during the tough times to paying off debt.

How MJ keeps "budget" a friendly term.

The two biggest life lessons MJ learned through his journey of financial autonomy.

MJ's inspirational advice for people to keep on track on the road to debt-freedom.
Resources Mentioned In This Episode
Thank You For Listening!
Thanks for tuning into us on The His & Her Money Show. If you have any comments or questions about today's episode, please let us know your thoughts in the comment section below. If you've enjoyed this episode, please share it using the social media buttons you see at the bottom of the post.
Also, please leave an honest review for The His & Her Money Show on iTunes! Ratings and reviews are extremely helpful and greatly appreciated! They do matter in the rankings of the show, and we do read each and every one of them.

Special thanks to Clearpoint for sponsoring our podcast. Clearpoint Credit Counseling Solutions (CCCS) has been providing consumers with budget, debt, and housing advice for 50 years. Clearpoint's counselors help consumers identify the causes of their individual financial problems and make a plan to address them.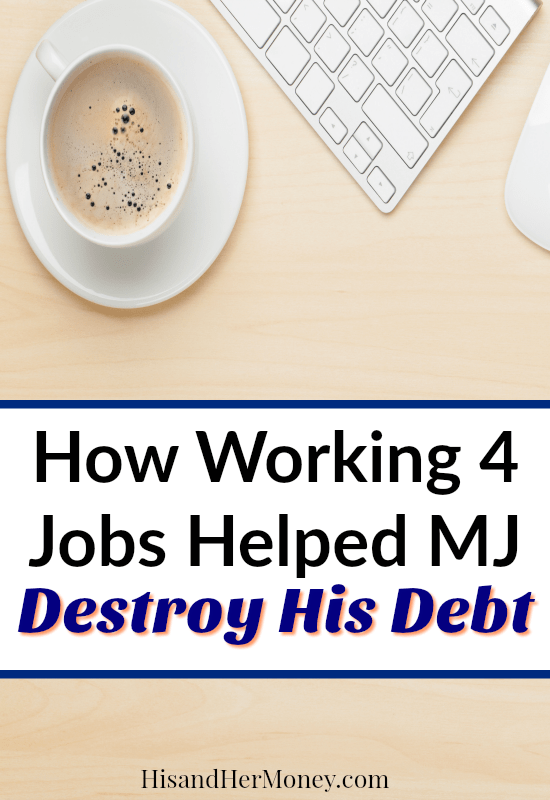 ---