How We Went from Living off Two Incomes Down to One
We have long wanted to talk about the experience of going from living off two incomes down to one. This is in response to a question that was sent into us asking what we would do in a situation where a wife makes three times as much as her husband. Would we advise her to ever come home full time if that was indeed her desire? The best way for us to answer this question is to talk about our personal experience on the matter.
Where We Started
At the start of our marriage, both of us were working. I did not have any plans to return home. I had a degree in finance, I was working for one of the premier financial institutions in the world, and enjoyed what I did. I loved helping clients and people, and I just didn't see myself ever becoming a stay-at-home mom. In the beginning of our marriage, my husband always made it quite clear that I had the opportunity to stay home and that he was not forcing me to work outside of the home.
It was a very difficult transition for me when I went back to work after having our first child. I felt guilty many days. I cried because I missed my son after being home with him during my maternity leave. Despite those feelings, I in fact went back into the workforce and picked up right where I left off. However, by the time I was pregnant with our second child, things started to change. I was more tired at that time and it was quite a challenge balancing work and family life. Everything hit rock bottom one fateful Sunday morning when I had a freak accident while pregnant and broke my foot. I was devastated, cried to God, and said, "Why would you do this to me?" But I knew that there had to be a purpose behind it although I just didn't know what it was at the time. Needless to say, my broken foot required me to be off from my job for a little while.
I was still stressed out, juggling a lot of things, and then before you knew it, it was time for me to go back to work. I got to work, sat at my desk, and then realized my time was up at my job and it was time for me to transition to a new phase in life. I realized that my job was to be at home and manage it. I remember calling my husband saying, "I don't think I can do this anymore."  He replied, "Put in your two weeks notice, that's all you have to do." My company had to let me go without two weeks' notice because of the field I was in, which had me dealing with individuals sensitive information. It was confidential in nature and they didn't want me to take any clients.
My husband was also in the middle of a transition, just having gotten out of the military. He was working part time while going to graduate school full time. Although we did not plan for it to happen right then and there, we were proactive with our finances because we knew my transitioning out of the workforce could happen. We had an emergency fund saved up because emergencies do arise, life does happen, and things can change in an instant. That's why we are always emphasizing the importance of becoming debt-free and changing the way you deal with your money. You want to be able to make life decisions not based on payments, but based on your passion and desires.
I knew that if I came home, things were going to have to change for us from a financial standpoint. I had a little bit of fear, but at the same time, I put my trust in God. I knew I had to trust that God knew what was best for our family. A lot of things were going to change now that I'd lost my salary because I had been making more money than my husband at the time.
Where We're At Now
Now fast forward to today, about five years later. Yes, we have not been able to pay down our mortgage as quickly as we had been with two incomes, but life is good and we are happy with the way things are. You may not be able to accomplish your dreams or certain goals as fast, but the point is that you will get there eventually. For us, it's going a little bit slower than expected because now I'm at home and not making as much money, but we're still living a great life. We're still able to give, be a blessing to others, go on vacations, and we're not lacking in any way.
How did we do it? We knew that we had to change our lifestyle. We couldn't live a two-income lifestyle on one single income. So if you're thinking about coming home, know that you're going to have to commit to some lifestyle changes. If you have a desire for one of you to come home, you should consider giving yourself a trial period to test it out. That's our challenge to you – for the next three months, bank one of your paychecks and see if you can live off one spousal income. There are several ways to cut down on expenses such as couponing and finding deals on certain items. If you're going to operate on only one income, then you need to act like it. Stop the frivolous spending on items or activities that you can do without.
There are a lot of people out there who have debt and are still able to stay home with their children while one spouse works. They're tackling debt and beating it. There's a difference between being in debt and having a deficit every month. It's not advisable to blindly come home without preparing the way. You need to have an emergency fund and budget in place. Things can change in a heartbeat. So if you want to be in a position to successfully transition from two incomes down to one, then make these changes happen and it will be a much smoother transition for you.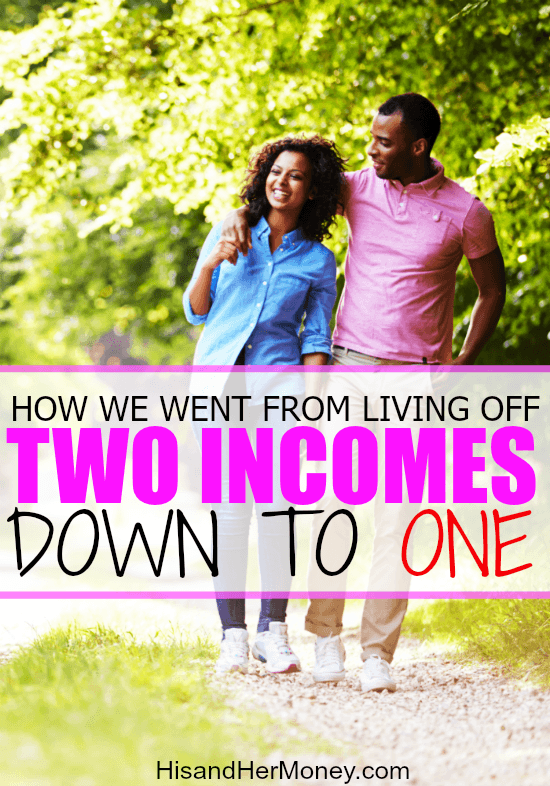 ---
---