In light of the madness that has ensued as a result of the data breach of major credit bureau Equifax, credit is at the forefront of everyone's minds. Equifax recently experienced a serious security breach that exposed the data of 143 million consumers.
The result of this breach includes unauthorized access to personal information such names, Social Security numbers, birth dates, addresses, and in some cases, driver's license numbers. The breach also compromised credit card numbers for 209,000 consumers and dispute documents with personal identifying information for 182,000 consumers. Your information very well could be compromised, and needless to say, this is some very disturbing news for many Americans to receive.
This Could Be Personal
Although disturbing, the latest data breach is only a micro level aspect of one's current credit situation. Many people who were unharmed by the Equifax breach still have much to be concerned about, and that concern is much more personal.
Most people have a desire to own a home or start a business, but each day, millions of people find that their poor credit is serving as a roadblock. The consequences of previously bad spending habits or unforeseen life circumstances have left them with a less than stellar credit rating. I found myself in this same boat a number of years back.
I was extremely careless with spending my money, and my lack of discipline got so out of control that I began to spend money that I didn't even have. This o, of course, ft me with a mountain of debt, and I found myself struggling just to get by financially month to month.
If you have found yourself in a similar situation, it's important to know that it is never too late to change your life and begin repairing your credit. All of the things you want to achieve when it comes to your credit and financial stability are never too far out of reach. All it takes is some determination and self-discipline, and often times, the best way to get started is to seek the help of professionals who can help put you on the track for success.
We recently discovered a website called CreditRepair.com. This site, like many others, aims to help modern-day consumers become more aware of their current credit score and status, track score changes, and actively play more of a part in their financial future. However, what makes CreditRepair.com different from other websites is the detailed involvement by their customer service team and their engagement with their clients to set you up for the best results possible. The team at CreditRepair.com is there for you every step of the way throughout the endeavor of repairing your credit and establishing better financial practices in your life.

The proof really is in the pudding for this company. One customer recently reviewed them and stated that she was only working with them for one month but was seeing amazing results. Her stress-free experience came at little effort from herself while working with them, she said.
"When I say worked, I mean gave them info and sat back and watched," the customer wrote on their testimonials page. The team at CreditRepair.com doesn't need much from you to get started; some basic information and authorizations will be all they need to get started on making moves to repair your credit.
There are so many things to be knowledgeable about when it comes to proper credit repair and monitoring, and the company promises to be vigilant about keeping your credit report fair, accurate, and relevant. Far too often, many credit companies and collection agencies abuse standards set by law, and the CreditRepair.com 3-step process ensures that the information attached to your name and social security number is substantiated and verifiable.
This 3-step process is defined by the three C's of CreditRepair: Check, Challenge, and Change.

The Process
First, your credit report is checked and the report is provided to you in a way that it is easy to review and understand. Most of us are capable of pulling our own report, but how nice it is to have a team of experts help to identify items on the list, organize them for better understanding, and be prepared to help us take the next step of challenging questionable and disputable items.
Next, they facilitate the challenges. This is where many of us get lost. What's the best way to contact these credit agencies? How should I approach them with my dispute? Should I attempt to settle, or do I have an exclusive right to have this mark removed from my credit history? The team at CreditRepair.com has those answers and handles this painstaking task for you.
After taking those steps, you will begin to see the real changes. In fact, previous members of CreditRepair.com reported an average of a change in their TransUnion score up by 40 points in four months. This is a momentous change and is a catalyst for success moving forward, and all it takes to get started is one phone call!
As I said earlier, we know it's not that difficult to pull your own report, and it's certainly possible to dispute and challenge items on your own. But the beauty of a company like CreditRepair means saving you time and giving you the convenience and peace of mind in knowing such an important matter is left up to the professionals.
CreditRepair.com has earned its spot as one of the most reputable and dependable companies out there, and I for one am certainly glad I found them as a trusted resource. If you know for a fact that you need professional help to get your credit into a better place, then be sure to contact the team at CreditRepair.com right away.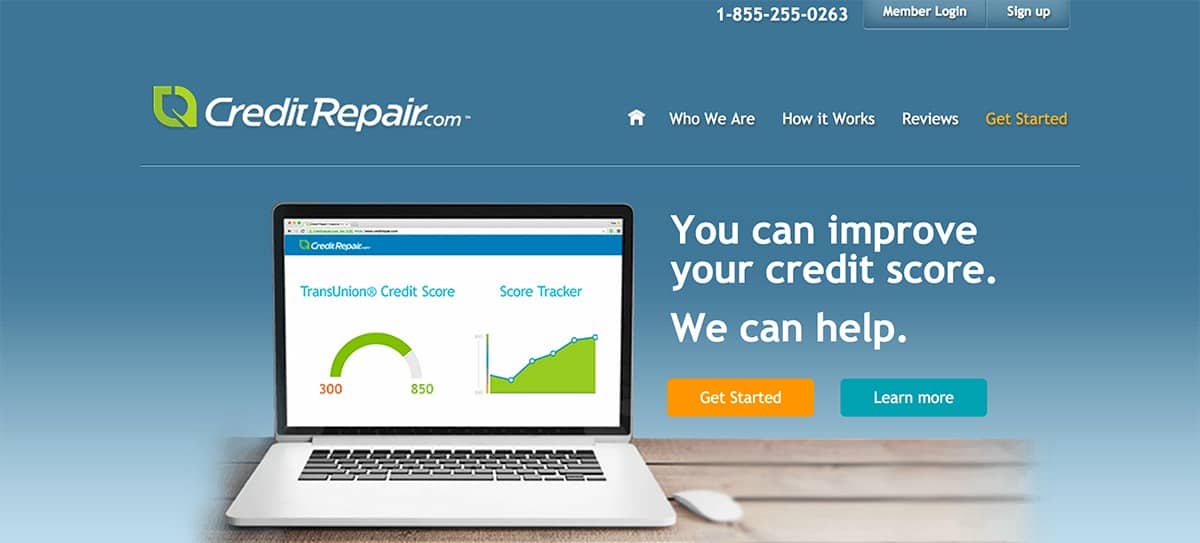 ---
---