Are You Dropping The Ball On Homeowners and Renters Insurance?
Written by Talaat & Tai on December 13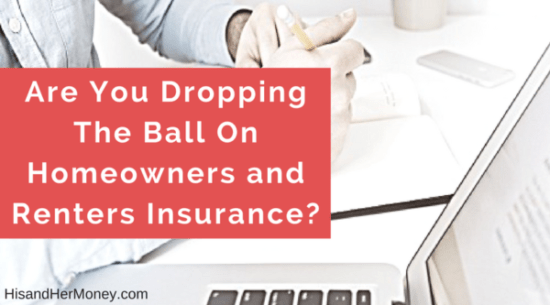 Everyone has those important – and often large expenses for things that are absolutely necessary to live comfortably. But don't forget to ask yourself, have you reviewed them recently? Can you still save money? Here at His & Her Money, we always advocate for you to stay
on top of any expenses that you pay.
Homeowners Insurance
Whether you own a home outright or still owe money on a mortgage, you should definitely have homeowners insurance. Not having a policy is a mistake for many reasons, but if you DO have homeowners insurance, one of the biggest mistakes you could be making is not keeping track of it.
Something that homeowners often overlook is the importance of updating your insurance company about life changes. Big or small, whether it's a new puppy or even a wedding ring, it can become a liability. If you lose something or it gets stolen (or your dog bites a visitor on your property!), it's so important to have coverage so you won't end up paying damages out of pocket, or worse.
Another common mistake is being under-insured. The most inexpensive option isn't always best, and if you under-insure, you won't have enough coverage when it really counts. Don't purchase your insurance on just price alone; make sure you get enough coverage and you're comfortable with the company and policy, and make sure it fits your needs AND your budget.
Renters Insurance
Apartment, townhome, house, whatever – if you're renting, you should have renters insurance. It's not a mandatory expense, but never think renters insurance is just for people with "valuable" items. Take an inventory of all your personal belongings, like kitchenware, furniture, etc., and your stuff adds up! And all of these things are a liability if you don't have a renters insurance policy. Your landlord's insurance will only cover the structure of the building, not your personal belongings.
This is another area where you shouldn't be cutting corners. If disaster strikes, like a fire, or someone gets hurt while on your property, without renters insurance, how will you pay for damages? Replace items? Cover medical and legal expenses? And if you do have insurance, do you have enough? If worse comes to worst, your home may need to be restored and you'll need somewhere else to live. If you don't have enough coverage, you could end up paying out of pocket.
Riders are another thing to look into. If you have an insurance policy, there are going to be caps. Do you have enough coverage for that expensive computer? If not, you'll be paying the difference. Try to get specific riders to cover the full cost of your items and lessen the blow to your wallet.
Last but not least, review your coverage at least annually. Make sure you have enough, decide if you need to add riders or make changes to your policy and update any life changes. Don't just pay your policy without looking at it and reevaluating. Stay up to date!
We know this might seem like a lot, and don't worry: we're all about giving you the tools you need to make your financial life easier. So make sure to visit HisandHerMoney.com/MetLife. MetLife Auto & Home's 100% online insurance has some great information about insurance do's and don'ts, coverage, deductibles, and so many other things on their website! They also give you the ability to get a quote, buy a policy with budget-friendly premiums, and file a claim wherever, whenever, without ever having to pick up the phone. Check them out, and you won't regret it!
Disclaimer- We are not licensed insurance agents, nor coverage experts. The MetLife Auto & Home website is full of information and resources to help you make the best decision for your insurance needs and budget. Deductibles, policy terms and conditions apply. This is a sponsored post from MetLife Auto & Home. However, all views expressed and opinions are our own.
---
---